If you have a square or rectangular area, calculating the amount of product needed is simply a case of measuring the width and the length and enter these values into the product page calculator.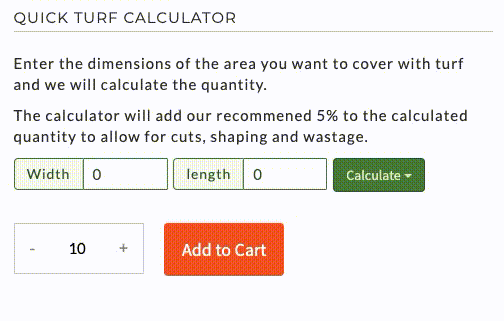 Whether you measure in feet, yards or metres, you can use the product page calculator to do the calculation for you. Each product page calculator is configured for the selected product. It will be indicated if the calculation includes our recommended percentage increase to allow for cuts, shaping and wastage. The calculator will also round up to the minimum order quantity for the selected product so pay particular attention to topsoil and loose products where these are available as small bags, large bags and loose loads.
Of course, not all areas are that easy to measure. The design of your garden may result in an irregular bed, lawn or area. If the shape is relatively simple and made up of separate squares or rectangles, you can measure it by breaking it up as shown in the diagram below.
Examples
Diagram illustrating how to measure an area made up of separate squares or rectangles: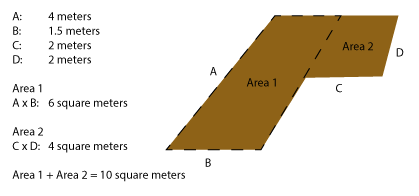 If your area is more complicated than that, use a grided paper such as graph paper to help you measure the area. Measure the width and the length of your garden at various points and plot the shape of your area to scale on the grid. Count the number of whole squares your area fills. Then visually piece together the rest from partially filled counting wholes as you go until you have accounted for the complete edge. Then add the 2 figures together. If in doubt, it is always best to round your estimate up rather than down.
Diagram illustrating how to measure an irregularly shaped bed: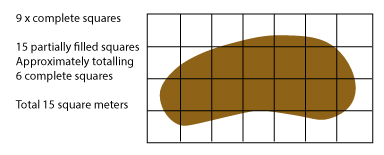 To use a meter squared area with our calculator, simply divide the square meter value by 2 and enter the result as the width and the length. Simple!
If your not sure and would like some help don't hesitate to call: 01959 897603 - Office hours Phone lines open 8am to 4pm Mon - Fri