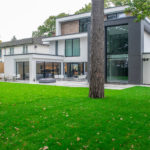 Autumn may well be one of the most picturesque seasons, however as the leaves turn from green into vibrant orange and yellow, you can be sure that within a matter of days your garden and lawn will turn into a blanket of leaves. In this article we've outlined a few tried and tested methods in clearing leaves.

Use a jumbo bag of tarpaulin to move large piles of leaves
As it's easy to see whenever looking out the window on a windy day, leaves are incredibly light, therefore as long as you have the means to hold a large quantity, they can be moved with fairly minimal effort. Piling leaves up into a jumbo bag or tarpaulin will save you bags of time. At London Lawn Turf we even sell jumbo bags that you can collect from any one of our 5 depots.

A mulching mower
Some lawn mowers will have a setting to mulch. The idea behind this is the lawn mower works in a similar way to a blender, the leaves get sucked in and are obliterated into tiny pieces, then when left on the lawn, these will mulch down and biodegrade into a great fertiliser.

A standard petrol lawn mower
If you don't have a mulching mower a normal mower can be used. The leaves will be sucked into the bag, which can then be taken to your compost heap. It's important to remember to keep the blade height on your mower at its highest setting, also bear in mind that areas of dense leaves may have you emptying your bag every few metres!

A leaf blower
By far the easiest and quickest way of moving leaves is with a leaf blower, for larger areas invest in a backpack leaf blower to make the task less strenuous. Blowing the leaves into piles around trees in your garden will help protect the roots against cold winder and lock in important moisture.
For more advice on seasonal lawn care visit us in store or speak to one of our friendly sales staff on 01959 897603.