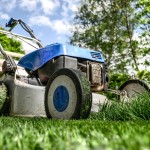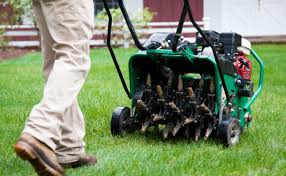 Lawn aeration is creating piercings of small holes in the soil to allow air, water, and nutrients to penetrate in the roots. This is beneficial for gardeners, since it allows greater root development, creating a thicker, healthy and stronger lawn. It will also prevent any thatch build-up, and will reduce soil compaction. This is why we have provided useful tips on how to make the most of your lawn aeration, so you can achieve a healthy and fresher lawn.
1. How to Aerate and How Frequently
Twice a year is perfect to grow your roots, one during springtime and the other during fall time.
2. The After Care of Aeration
Make sure to fertilise, overseed and water your lawn, in order to grow stronger and deeper roots.
3. How to Know Whether You Should Aerate or Dethatch
If you do not have a thatch later that is more than two inches, it is better to simply carry out aeration. It will separate the build-up and will also reduce having too much soil pushed together.
4. Why Aeration Alone Cannot Fix A Damaged Lawn
Aeration can help the process of your lawn, but it cannot entirely fix a damaged lawn. It is important to make sure you are overseeding, watering and fertilising your soil to fix you lawn. However, one must consider other sources as the cause of a damaged lawn, such as insects.
5. Why Watering Lawn is Beneficial After Aeration
Watering straight after conducting aeration will help to break down any cores created from the aeration. It will also allow the water to come in contact with unexposed roots that have yet to be moisturised.
6. Fertilise After Aeration
It is important to fertilise straight after aeration, so that the fertiliser can enter the root system. Make sure to use the correct type of fertiliser, which varies depending on the season. Keep in mind not to use any type of weed controller, if you also want to overseed too. However if you are not overseeding, then using a any type of weed controller will not affect the aeration process.
7. Overseed After Aeration
Make sure to overseed the very same day or the next day whilst the holes are still open. Overseeding is beneficial for your lawn, especially if it is suffering from insect and disease damage, or drought stress.