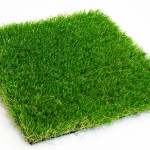 With spring and summer already knocking on the door, now is the perfect time to think about preparing your garden for the warmer months. If you're fed up of mowing the lawn and re-seeding your garden every year, or you aren't quite up to the physicality of keeping your lawn in pristine condition anymore, you might wish to consider installing artificial grass instead.
What is artificial grass?
Artificial grass, also known as artificial grass, offers a real-grass appearance while standing up to exceptional wear and tear. Not only is there no need to water it in the warmer weather, artificial turf is also made to be porous, allowing water to seep through, leaving no unwanted puddles in the middle of your garden after a downpour! Demand for artificial turf is on the rise.
Market research analysts forecast
that the global artificial grass turf market is going to grow by more than 13% by 2021, as homeowners recognise the benefits of the designs, colours and reduced maintenance costs. So if you've decided enough is enough and that you'd like to try life with artificial grass in your back garden, you'll need to do the necessary groundwork in readiness for the installation of your new artificial grass. Here are our top tips for laying flawless-looking artificial grass in your garden:
How to prepare your garden for artificial grass
• Clear your existing real turf – Depending on the size of your back garden, you may be able to use a spade to dig up your existing turf. Dig to a depth of around 40mm to give yourself enough depth when laying your new artificial grass. For larger gardens, a turf cutter can be useful to make the job a little less strenuous. • Put down a layer of sand – Once your old turf is cleared, lay out a batch of sharp builder's sand to a depth of 35mm. This will act as the base for your artificial grass to sit on. • Ensure the sand is levelled out – Using either a heavy hammer or builder's plank, make sure you level out the builder's sand by ensuring it is compacted and smooth. It doesn't have to be perfectly smooth, but the smoother the better to install your rolls of artificial turf onto it. • Protect against weeds – Before laying your artificial grass, make sure you put down a weed membrane over the top of your sand, making sure it overlaps joints.
Installing artificial turf for the first time
• Stagger the artificial grass rolls – For a more natural look, make sure you stagger the rolls of artificial grass so that they don't end in a line. artificial grass tends to angle in one direction once it is laid. We recommend laying the artificial turf so that the grass angles towards the house so that it appears natural when you look out on it from inside your home. • Get out your craft knife – If you want good, clean edges to your artificial grass, make sure you trim the edges of your grass rolls and remove any excess using a craft knife.
The importance of fixing down your artificial grass
• Glue your artificial rolls of grass together – Once the artificial grass has been rolled out, the rolls must be glued in place together for optimum effect. Run jointing tape between the join of the rolls and add glue to the tape, carefully positioning the edges onto the tape, ensuring none of the artificial grass touches the glue. • Ruffle the artificial grass fibres – After you've glued together two rolls, in order to make the grass appear more natural, don't be afraid to ruffle the grass fibres in a bid to mask the glued seal. • Physically pin down the edges – Purchase some ground pins and tack the artificial grass rolls down at 20-centimetre intervals, ensuring the rolls fit tightly to the ground. If you want artificial grass for your garden but the installation process seems a little daunting, don't panic. At The London Lawn Turf Co., our sister company, London Artificial Grass Company can supply and install
high-quality artificial grass in London
, with
approved installers located throughout the capital
. If you'd like to know more about our artificial grass services, please don't hesitate to contact us today on
0208 629 0440
and secure a free quotation.