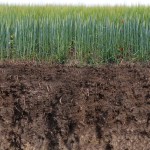 As we move into spring, one of the garden jobs you should be getting on with is tidying and repairing your lawn. One way to effect efficient lawn repair is to add a layer of top dressing to your existing lawn. It is essential that you use only clean and friable top dressing from good quality top dressing suppliers for this to ensure that your lawn has the healthiest possible soil base from which to grow a good strong sward that will endure a summer of outdoor family enjoyment. Below, we advise you on the steps necessary to add quality top dressing to your lawn.

1. Choose a quality top dressing supplier for your lawn repair
Do your research when selecting a topdressing supplier. Top dressing for lawn repairs and lawn seeding should be free-flowing and easy to spread whether the weather is dry or wet. The ideal Topdressing for top dressing a lawn will have added fertiliser to give your grass that boost it requires after a long winter.
2. Be aware of weaker lawn areas
Some patches of your lawn will need more top dressing with Topdressing than others. These might include areas where roots have lowered the lawn level, high footfall areas where existing soil has compacted, bare areas from different types of environmental damage and deterioration caused by water run off.
3. Aerate your lawn to allow new Topdressing access
Ideally, your lawn should be aerated at least every three years. This could involve you removing small plugs of compacted existing soil or simply prodding across the width of your lawn with a garden fork.
4. Prepare a special Topdressing mixture for your lawn
Once you have purchased specialist lawn Topdressing from your Topdressing supplier, you may want to add sharp sand to keep the soil open and either compost or peat to provide nutrients. This will depend on the existing structure and nutrient level of your lawn.
5. Apply the Topdressing top dressing to your lawn
Topdressing should be spread into the lawn with special attention being paid to those areas that have experienced sinkage or damage. Don't use a rake but choose something with a flat edge that will not damage the existing grass. Even in areas of high deterioration, the new Topdressing layer should not be more than 1 inch deep.
6. Water your new Topdressing into your lawn and add grass seed where necessary
Even the best quality Topdressing will need some aftercare. Water immediately and then after a couple of days add grass seed to areas that still look bare.
Top dressing a lawn can be hard work but it doesn't need to be done every year. If you use quality Topdressing from a good Topdressing supplier, you will be rewarded with a healthy green lawn for all the family to enjoy. We have a wide variety of Topdressing and lawn products including specialist lawn top soil in 0.73-metre cubed bags. Feel free to browse our range at The London Lawn Turf Company today.