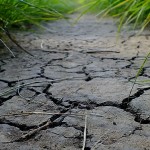 Although long awaited, summer can have detrimental effects on your lawn, even for the most seasoned gardener. Despite our best efforts, sometimes the searing heat and periods of drought can get the best of our lawns and we are left to pick up the pieces as the weather begins to cool. Seeing dead patches in your lawn can be disheartening. However, with a little TLC they are easily rectifiable and will leave no lasting damage.
In this blog post we will go through the steps required to get your lawn back to full health, leaving the dead patches as no more than a distant memory. If you would like to discuss your lawn's health with a member of the dedicated London Lawn Turf team, then do not hesitate to get in touch with us.
Process to remove dead patches from your lawn:
Start by clearing out any dead matter, turf, and other debris from the area. Using a rake, remove your dry, dead grass, leaving your top layer of soil exposed. Grass germinates best when it comes into direct contact with soil, so although you can grow new grass directly on top of your dead patches, we suggest that you take it right back to soil level.
Once you have removed the debris, loosen the soil by scratching the surface with a rake. If you have the time, dig and loosen the top 2 to 3 inches of soil. If your soil quality is particularly poor, then consider working in a little compost to give your new grass the best possible start.
Scatter grass seed over the loosened soil. Choose a good-quality seed that is geared to your climate and soil type. If you are unsure which type of seed to opt for, then don't hesitate to ask the staff at your local garden centre. Lightly rake the seeds through the soil so that they are combined with the top quarter of an inch of soil, with some still on surface level.
Following this, get growth off to a good start by scattering a small amount of lawn fertiliser on the newly transformed dry patches. Make sure that you pick a fertiliser that is formulated for new grass so as not to damage the young seedlings.
Top the patches with a light layer of straw or chopped leaves. Try not to add too much: just enough to cover the ground. This will help to slow evaporation, discourages seed washouts, and improves germination. Be sure to water your patches enough to wet the top 2 inches of soil.
If you would like to discuss your lawn's health with our dedicated team, then do not hesitate to get in touch. We are also available to discuss the potential for new turf for your garden, which our professional, fully trained team can lay for you. Call us today on 01959 897 603 or fill out our online contact form and we will return your enquiry as quickly as possible.