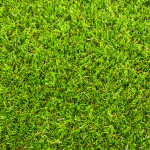 Making the switch from a real lawn to
artificial grass
represents something of an investment, so it pays to keep your grass properly maintained. Although an artificial lawn is low maintenance, some work is required to keep it looking its best. A regular schedule of tidying, raking and rinsing will keep your lawn looking lush and green through the dark days of autumn and winter ready for use in the spring.
Keep it clean
Just like a living lawn, you will need to make sure you gather up leaves, twigs and other debris that has gathered on your artificial grass during the autumn season. The reason being that rotted down organic matter can begin to impair the drainage of your artificial lawn unless you remove it quickly. A leaf blower or plastic rake will do the job with ease. If your artificial grass gets frozen on an icy morning, leave it to defrost naturally as attempting to remove the ice manually may damage the fibres. If you've taken the time to clean, brush and rinse your lawn and you know it's draining freely, any melt water will simply drain away.
A wash and brush up
Your artificial grass will benefit from a good brush and a hose down on a regular basis to keep it looking its best. Using a stiff brush, work over the pile of the lawn in different directions to keep the individual blades bouncing back in an upright position. Sweeping about once a month is ideal to keep the pile looking good. You can hose down your
artificial grass
whenever necessary, particularly if you're a pet owner. You can use soapy water for a deeper clean and you can purchase disinfectants to keep things smelling and looking good. If you're not sure about a product, test it first on an offcut or somewhere that any damage can be hidden.
Quick tips for lawn maintenance
• Remove any sharp objects like broken glass as quickly as possible so they can't damage the blades. • Keep motor oil and battery acid well away from your lawn as these fluids will cause staining and discolouration. • Don't get rid of your rake and leaf blower as you'll need them to maintain your new artificial lawn! • Don't puncture the weed suppressing membrane as this can compromise the installation. • Any heat source will melt the fibres of your artificial grass so install a patio for your barbecue. If you're interested in using artificial grass in your garden, then contact us on 0208 629 0440 or ask for a
free quote
.