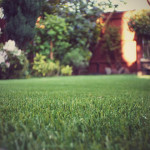 As artificial grass increasingly looks like the real thing, more people are choosing this low-maintenance option. But if you're not yet sure what advantages artificial turf could bring to your garden, we run through those homeowners who could benefit the most.
Artificial grass for families or pet owners
Children and dogs can cause havoc to lawns, where they end up covered in mud or grass stains. Fake garden turf is perfect for high-traffic gardens as it can withstand heavy use. Even better, muddy patches are out of the equation! Choose a hard-wearing option and your lawn will look stunning all year round.
Lovers of low maintenance
Artificial grass
offers a practical solution for time-starved individuals who want the benefits of a lush green space without the hard work. At most, the occasional brush down should suffice, ideal if you're regularly away from home or work long hours.
Artificial grass for owners of small or awkward spaces
Fake turf is perfect for those who have a small space that they want to make green, but using a lawnmower isn't an
option
. This could include: • A small courtyard • A roof terrace or roof garden • Awkward patches that are hard to make attractive using real grass, such as shaded or boggy areas under a tree.
Landlords or second-home owners
If you don't live at your property all the time, or you rent it out, keeping on top of garden maintenance will prove tricky. Installing fake turf offers a convenient solution that gives your garden a green look without requiring regular maintenance. It's ideal for tenants, who also don't want the hassle of keeping the grass in check.
Artificial grass for the elderly or infirm
If you physically can't get out to maintain your lawn, installing fake turf is an excellent solution. There's no pushing a mower, bending down to weed or carrying heavy watering cans involved.
Environmentally conscious
During hot summers, real grass gets very thirsty and water consumption soars. It's estimated you could save up to 70% off your water bill by switching to artificial turf. Additionally, maintaining a lawn requires power or oil for a mower, and the use of chemicals to kill weeds, which can harm the environment. Sports groundskeepers Fake grass is increasingly used for sports pitches or sporting areas, as it's easy to maintain and stays in good condition even under heavy use. The pitch can still be used after heavy rain, too, as it won't get muddy. Get in touch with The London Lawn Turf Company if you think you could benefit from artificial turf. We specialise in quality fake grass installation in Surrey, Kent, Hampshire and London.