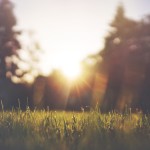 Now that the weather is truly warming up, you want to ensure that your lawn stays luscious and green all summer long, as well as protecting it for the months following. At London Lawn Turf, we have the advice you need to know about to ensure that your summer lawn is as luscious and thriving as the day it was laid.
Mowing Your Summer Lawn
During the summer, mowing your lawn can be a real treat as it gives you an extra excuse to get out in the garden. You do want to avoid cutting your lawn too short, especially when the heat is high and the rain won't seem to come. If you are going on holiday, this is very important, too. If you cut your lawn with a higher blade so that the grass is left a little longer, not only is the soil better shaded but moisture retention is much better.
Watering Your Lawn
It may not seem it now, but there may well come a time very soon when it doesn't rain for a while. Even in England, you should be considering watering your lawn fairly often, and this is never more important than in the harsh summer months. We advise watering your summer lawn either in the early morning or ideally in the evening, so that the water has its best chance to soak into the soil before the sun evaporates it away. This will help your grass to rehydrate properly. It may be a good idea to keep a rain gauge so that you have an idea of how much water your lawn has received so that you can take over when necessary and make sure your lawn is as deeply watered as it will need to be.
Consider Wind Breaks
It may not be the first issue that springs to mind for summer, but any wind can significantly help in drying out your lawn. If you don't have much in the way of fences and hedges currently protecting your lawn from the breeze, you may want to consider it this summer. They can be very aesthetically pleasing, and may also provide extra shade which is not only good for your lawn but also will be appreciated by you and your family during the height of the summer sun.
Consider Your Garden Use
At London Lawn Turf, we, of course, understand that you want to make the very most of your beautiful lawn throughout the warm months. However, a little clever garden planning can minimize the amount of foot-traffic your garden receives, which will help your summer lawn immensely. If you have a well-trodden path through your garden that you're aware of, why not lay down some attractive stepping stones? You could also install a fantastic deck for your garden to place the furniture and barbeques on, stopping your lawn from getting damaged from chair legs. These will encourage careful use of your garden, guaranteeing you a green lawn that will last throughout the summer. For more from London Lawn Turf, please do have a browse of our
blog
. From
garden party planning
tips, to advice on
attracting stunning birds to your garden
, we have some great guides on getting the most of your garden this summer.