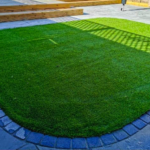 People with pets, particularly dogs, will know what havoc they can wreak on your garden and especially to your lawn.
If you're thinking about artificial grass in your garden, one of the first questions you're likely to ask yourself is how suitable is it for my pet?
In this article we've outlined a few of the key benefits of installing an artificial lawn for your four-legged friend. 
Artificial grass and your pet's calls of nature
Stains on natural grass can be one of the worst things about having a pet, as all the love and care taken to cultivate a nice green lawn is ruined by your pet's waste! The latex plastic in artificial grass is incredibly resilient to stains and damage and can be cleaned easily with a hose or warm soapy water.
Our Easigrass Kensington grass is the perfect choice for messy pets as it has a slightly different backing, it's manufactured so as not to absorb the ammonia, i.e. the smelly part of your pet's urine.
The Dog Proof Easigrass Kensington.
Will your pet try to dig up your artificial grass?
Your dog might be quite confused by your artificial grass because they usually like to dig at the smell of soil. It's likely that they won't even try to dig at your grass, sensing it isn't usual lawn turf, but just keep an eye on them early on to make sure. You might need to help train them out of this behaviour if they do begin digging.
Equally, we have found that lots of dogs like to dig in borders, at bulbs, for example. If you're keeping your borders, we're afraid that won't stop when you get artificial grass! Either way, you'll be able to enjoy a nice green lawn without any maintenance, free from holes and mud patches.
Despite their best efforts, this customers dog had all but destroyed their natural lawn.
The best things about artificial grass and your pets
When pets are concerned a natural lawn can take a lot of upkeep, large dogs especially can turn lush green lawns into a patchy muddy mess. Artificial grass however, with minimal effort will remain looking pristine all year round.
The worry of muddy paws coming into the home is pretty much eliminated, an artificial lawn will stay green and healthy throughout the seasons, there's no need to use grass feeds, seed or pesticides, either, which can be harmful to your pets.
Things to think about
One top tip is to make sure your artificial grass is fixed securely around the perimeter and that the surface underneath is firm so that when your dogs (and the rest of the family!) are playing on the grass, it won't move.
To find out more about our comprehensive artificial grass installation services give us a call today on 0208 647 9123.