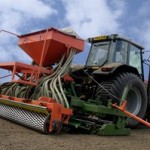 When it comes to grass turf, it goes without saying that you'll want only the finest quality product in order to bring your garden to life. For decades, there has been one name renowned amongst gardeners for producing premium quality garden turf with consistent results:
Rolawn
. Rolawn is used both by keen hobbyists and professional landscapers alike, and a brief insight into the production methods of the product makes it easy to see why it's arguably the most revered and recommended grass turf for sale in the UK.
Specially selected seeds: the Rolawn way
As with most things in life, you get what you pay for. Whilst a cheaper turf might feel like an attractive proposition, it's important to understand that low quality seeds used in budget turf can be something of a false economy. With Rolawn, you're guaranteed that years of expertise have gone into choosing the best seeds, and that each batch is rigorously tested for purity and germination properties.
How is Rolawn turf seeded?
Rolawn turf is produced via a state-of-the-art process using what is widely believed to be the most advanced seed drill setup in the UK. The patented drill system offers an unparalleled means of levelling the ground and distributing seed at the same time. Soil is meticulously ploughed and cultivated, after which a carefully selected combination of blended seeds are laid down via a multi-directional approach which ensures that there are no weak spots or patterns within the turf.
Rolawn soil selection
Good quality soil should have a rich, brown appearance, and should crumble easily between finger and thumb. If your soil features these properties, you can be confident that it is nutrient rich and will allow the turf to form thick root systems. Rolawn products feature a thin layer of soil which facilitates faster turf rooting after it is laid.
Harvesting Rolawn turf
On the day that the turf is due for harvesting, it is first mown and then vacuumed, followed by a thorough inspection. Providing the turf is of the utmost quality, it is then harvested via a sophisticated automated process which has been perfected throughout the years. Any defects at any point of the multi-directional production process result in the turf being rejected. This high attention to detail ensures that only the best quality products make it into the marketplace – which ultimately means that you can rely on Rolawn for consistent results, time after time.