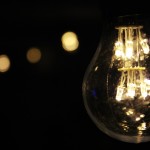 During the autumn and winter months, our main concern for garden lighting is often whether or not it keeps us and our guests warm during the evening. However, when it's summertime and the weather has been wonderfully warm, we don't need to worry so much about the chill in the air as it's often a refreshing change. That doesn't mean that we want our evening to be plunged into darkness, though. With that in mind, ignore winter's chimineas and firepits and instead take a look at these aesthetically delightful lighting options to illuminate your summer nights.
Solar Powered Garden Lighting
With the weather as it currently is, what better way to power your lights than with solar energy? There's a wealth of choice when it comes to lighting your garden with solar powered lights, so you can customise your lighting to suit your outside aesthetic. Not only are you being eco-friendly in your garden lighting decisions but you can also be sure that they are spending all day charging, meaning they're ready to beam bright by the time the sun goes down.
[caption id="attachment_919" align="alignnone" width="226"]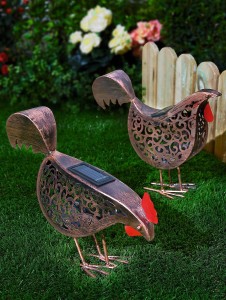 http://bit.ly/2bVy5zz[/caption]
Why not go for something a little unusual for your solar lighting? These
solar powered hens
are quirky in look whilst also throwing delightful patterns across your lawn.
String Lights
String lights are always a popular choice due to their versatility. Not only are they a perfect way to decorate any decking and railings you have, but you can move them around the garden depending on where the guests are seated. Whether they're wound daintily around a tree trunk or draped artfully over your dining table, string lights are the ideal way to keep you lit wherever you go.
[caption id="attachment_924" align="alignnone" width="300"]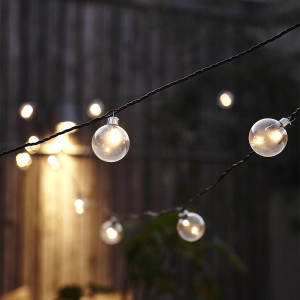 http://bit.ly/2bn1sIG[/caption]
These elegant
string lights
add a touch of urban chic to your soiree and can be used indoors too, so you can get the most of them all year round.
Furniture Lighting
What better way to make the most of your outdoor space than to incorporate your furniture and lighting all in one. From seating to tables, there are some exquisite design options currently available for furniture lighting, and they certainly make a wonderful talking point during those late summer evenings.
[caption id="attachment_926" align="alignnone" width="300"]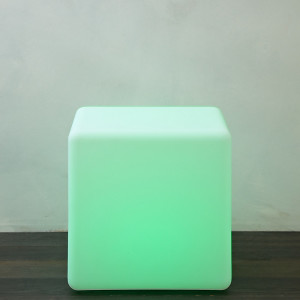 http://bit.ly/2bEUxLC[/caption]
This exceptional
outdoor seat light
is not only practical but stylish too, so even if you use it as a focal point rather than a piece of seating, it will ensure a sophisticated and unique solution to your garden lighting.
To ensure that your garden is in an immaculate condition ready for your guests this summer, talk to The London Lawn Turf Company on 01959 897 603 . We're specialists in garden landscaping and turf laying, and we are able to ensure that you have a garden ready for hosting during the last of the summer evenings.