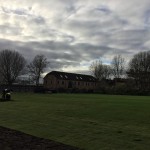 As temperatures begin to increase, prime turf laying season in the UK is now upon us. Of course, it can be tempting to rush into proceedings in order to get your garden ready for the summer, but before getting too hasty there are a number of things to consider, which we'll take a look at below:
Things to do before turf laying
Prepare your soil prior to ordering turf
Most turf suppliers will recommend getting your soil nice and even, and full of nutrient-containing garden compost and bark before you order your turf. In the summer, most turf (including Rolawn) should be laid on the day it is delivered.
Measure, measure, and measure again
Ensure that you measure accurately in order to know precisely how many rolls to order from your turf company prior to placing the order – there's nothing more frustrating than being a roll or two short of lawn turf!
Order an extra 10% for trimming/offcuts
If your lawn is curvy or in any way complicated in terms of its shape, chances are that you will end up with some wastage as a result of trimming your turf to fit your lawn. Anyone who has ever constructed anything involving fabric, wood or other materials will understand.
Order the best turf your budget can stretch to
It goes without saying that premium turf will provide much better results. Thankfully it's possible to
buy turf online
at knock-down prices without having to scrimp on quality.
Turf laying: what to consider on the day
Use boards/planks
Standing on your turf will put undue pressure on it and risk damaging it. In order to evenly distribute your weight, use scaffolding planks and wooden boards. These can also be used for transporting tools and turf via wheelbarrow.
Start at the far-end of the garden
When turf laying, if you start at the back you'll work your way towards your home and this will negate needing to walk on your freshly laid rolls.
Don't use small pieces of turf at the edges of the lawn
Small sections of turf take a long while to establish and are more likely to dry out. If you must, use smaller sections in the middle of the lawn.
Turf laying aftercare
Be certain to water your turf at regular intervals (once in the morning and once in the evening) for approximately one month after laying and mow it once weekly, taking approximately 25% off the length.