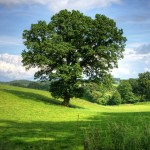 Now that the arrival of spring and summer is approaching us, it is the perfect opportunity for us to engage in more outdoor activities. A short weekend trip to the countryside is fun and adventurous, where you can go on treks, visit the beautiful villages and gardens, and enjoy the breath-taking sights. We have provided useful tips and tricks on how you can make a weekend trip go smoothly without any worries or stress.
Tip 1. Plan Ahead
Be sure to research the destinations you plan to visit, including the activities you can do, transport, accommodation and timings. A great idea is to keep a schedule plan of the activities you will be carrying out everyday, that way you can better manage your time. Furthermore, make sure to keep all travel documents in one place safely, such as car rental and accommodation information.
Tip 2: Book ASAP
Make sure to book your weekend trip as early as possible, including your accommodation, transport and any other important bookings. It is always best to secure a reservation beforehand, that way no spaces are filled up when spring and summer approaches. Furthermore, you can even receive discounts when you book early.
Tip 3: Pack Correctly
It is important to only pack necessary items, such as clothing, bathroom essentials, and emergency essentials. If you are planning on going hiking, make sure to carry sunscreen, a first aid kit and waterproof gear.
Tip 4: Budget Accordingly
It is always good to set a budget otherwise you might end up overly spending on your food and drinks, and other things that you could save up for something better. Remember to keep spare emergency money for fuel, transport and general emergency situations.
Tip 5: Travel Safe
Make sure to inform your friends and family everywhere you go, and how long they are going to be. It is always best to travel in groups or pairs, that way you can have people to rely on during emergencies. Make sure to also check the weather conditions before planning activities.
Tip 6: Make Sure to Have Fun
Make sure to have fun on your weekend trip to the countryside, and take up new activities that fit around your planning schedule. There is nothing better than enjoying the moment and trying new things, with safety of course. Remember, enjoy yourself and create the best memories with your friends and family.