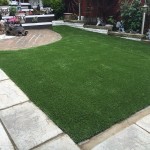 They say good things come in small packages. Well, it's no less true for small gardens. While you've got less space to work with, there are lots of ways to maximise what you do have (we can vouch for that as a London-based company) – it just takes a bit of vision and plenty of inspiration. Whether you want to create a space for your family, for a place of tranquil or an area for entertaining friends, we have a team of landscapers who have been making ideas come to reality. With that said, we've got some design ideas to get your garden-juices flowing, whether you're updating your space or giving it a complete makeover.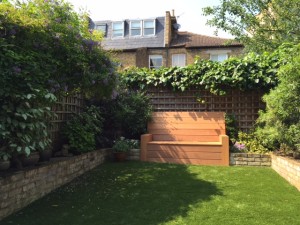 Clever storage
One of the biggest issues people face with a small garden is the lack of storage space. The good thing about this is you don't end up with a shed full of items you (probably) rarely use. Instead, opt for wooden storage compartments to store the essentials. They come in different sizes and can also be tailor-built so they don't swamp your space. Why not maximise your storage by giving it a dual purpose, such as creating storage benches that solve your seating needs?
Create an illusion with mirrors
It's no surprise mirrors made the list. They make a great design piece while creating the illusion of more space – perfect for smaller gardens. Wherever you place it/them, make sure the reflection shows the best of your garden and not drain pipes, etc.!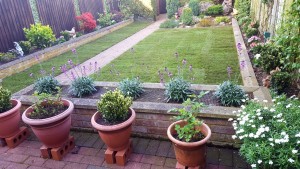 Potted plants aplenty
Potted plants are perfect companions for small gardens and will more than make up for the lack of grass or flower beds. Choosing a variety of plants, trees and shrubbery in different sizes and colours will add depth to your outdoor space while creating privacy.
Set the scene with flooring
Decking, pavestones and gravel are good options for smaller gardens and more than make up for the lack of grass. Decking comes in various styles and even a small feature can make a big impact. Gravel is another simple but effective design option, while also being low-maintenance. If you can't bear the thought of a garden with no grass, you might opt for a small patch instead, combined with decking. You could even throw in a water feature if you're feeling adventurous!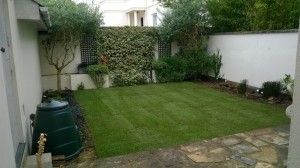 Decorate the walls
An empty wall opens up an array of design opportunities without encroaching on your limited space. You could hang small plants (you never can have enough), install solar lighting, or add shelving and display your favourite ornaments and candles. Alternatively, build a trellis and let your plants climb. If the space feels enclosed, use trellis to create one feature wall.
Complementary furniture
Foldable furniture is ideal for smaller gardens and won't swamp the limited space – it's also easy to store. Or, as we touched on earlier, you might opt for built-in furniture which doubles up as storage. Alternatively, large bean bags might appeal to your taste. Whatever you choose, dress it up with your favourite throws and cushions to inject warmth, comfort and style.
Don't forget wildlife
There's always room for wildlife, even in a small garden! So why not make it a haven for our feathered friends by adding accessories like bird feeders and/or bird baths? They create a beautiful focal point for your garden and the birds will thank you for it. Just imagine yourself sitting outside, enjoying your new garden on your cushioned furniture with a good book and the soft sound of birds singing…
Practicalities to finish:
Gather ideas and plan your space before you start – having a smaller garden means being selective. Start by looking out at your garden from your window – this is the view you want to pay particular attention to as you'll spend lots of time admiring from the inside. Know your green-fingered limits. If you're not a natural gardener, go for low-maintenance options Remember to plan for the seasons – while the UK is a great place to live it certainly isn't known for its year-round sunshine, so plan a garden that can handle the changing seasons (and rain!) And finally, if you're lucky enough to have a front garden, don't forget to give it the same attention!
Note - all photos shown in this article are turf and landscaping projects completed by London Lawn Turf. For more ideas and inspiration, have a look at our Gallery.