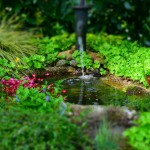 Though the wet weather may be providing all of the water you currently need, we all should be preparing for the probable heat wave heading our way. There are few things more exquisite than relaxing in your luscious garden on a summer afternoon with the trickling sound of water nearby. You don't need to be residing in a house by a lake to achieve this; London Lawn Turf have hunted down the most effective garden water features for your home this summer.

Fountains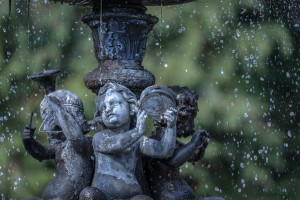 A fountain is possibly one of the most popular options for garden water features. With often seamless installation and endless aesthetic possibilities, one can always find the perfect fountain to suit their taste and needs. Sometimes featuring a contained tub to cycle the water through, you could utilise yours as an idyllic bird bath to draw more wildlife to your garden. Alternatively, you could have your water spouting from statues holding pots, from animals bursting out of waves, or simply cascading from an abstract design. The feature of fountains is that the water shoots up before splashing down, meaning the sun easily glints off the droplets and the enigmatic arc of water creates a true feature in your outdoor space.
Waterfalls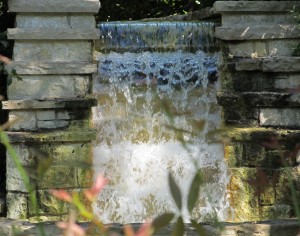 Waterfalls are an arguably more relaxing equivalent to the energetic fountain option. A tranquil setting is created whenever a waterfall is nearby, and you don't always require a suitable wall space for one. There are many options available for artificial waterfall garden water features if that's what you desire. This means you can even place your waterfall close to your seating space in your garden, rather than tucking it at the back simply because your walls lend themselves to it. A little browsing is sure to find one that allows you to customise it to your garden habits.

Ponds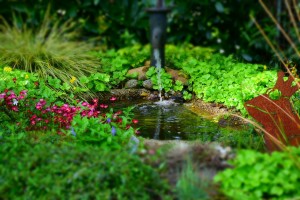 Ponds do not often spring to mind when we think of garden water features because of the still nature of the water within them, however, it is very simple to revitalise your pond into an animated aquatic scene. You could either implement multiple step levels into your pond to recreate the effect of flowing water, or you could use aesthetically pleasing pipes and pumps to circulate the water, or even install little windmill watermills to emulate a free-flowing water feel. Alternatively, why not integrate a fountain or waterfall into your existing pond and combine a mix of garden water features? This is a big commitment to making water the focus of your garden landscape, but for many this will also encapsulate an oceanic tranquility that will be the envy of many during the high heat waves of our summer months.
For more garden design and landscaping tips, do have a browse of our other blog posts. To discuss with our team just how you can transform your garden with luscious turf in time for summer, call us today on 01959 897 603.